Main content starts here, tab to start navigating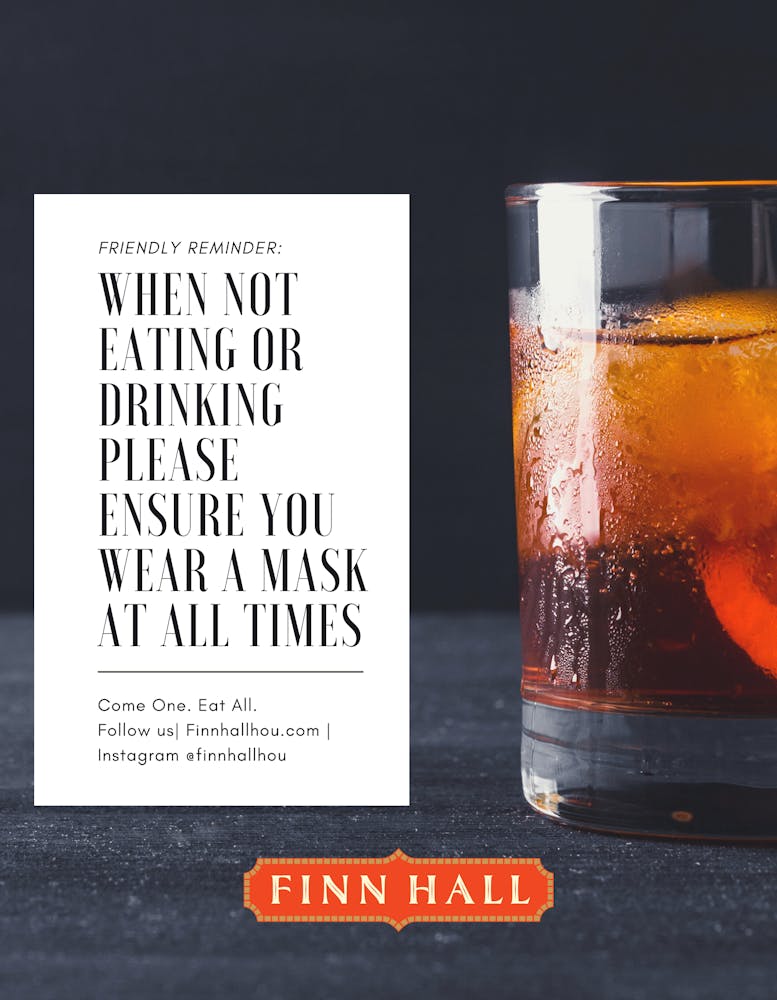 In light of Governor Abbott's Mask Mandate, we want to reiterate our continued commitment to providing Finn Hall's visitors the safest and most comfortable environment we possibly can.
Finn Hall will continue to maintain all current in-place protocols for preventing the spread of COVID-19. This includes keeping all instructions on signage, social distancing directives, and mask-wearing. Also, our cleaning protocols and adopted best practices of high-touch point areas will stay in place.
We will continue to require all Team Members, Operators, and guests to wear masks. This recommendation is consistent with health professionals' advice and guidelines from the Center for Disease Control and Prevention.
As we start to re- open, we're ready for you to try all our old favorites and new offerings for breakfast, lunch, happy hour or dinner. If you wish to follow the latest information go to www.finnhallhou.com.We are getting closer to the time when we can put this all behind us – so keep staying H-Town strong- mask-up!
Below are protocols we have already implemented and we will continue to follow:
Mandatory PPE for all Finn Hall staff.
Staff are pre-screened prior to shift.
Guests will not be able to enter the hall without masks.
Security will be checking guests at the door.
Only kids 10 and under will be allowed with no masks
New Covid Sanitation program throughout hall. Finn Hall Staff is working on updated disinfecting schedule.
Added Signage Safety Recommendations (Floor Signs, Bathrooms, and Floor Stickers). Best hygiene banners placed at each entrance.
Added Step & Pull accessories to exit bathrooms.
Added 4 sanitizing stations at each entrance.
Parties are encouraged to maintain at least 6 feet distance apart from other parties at all times, including while waiting to order.
Condiments must be provided in single use (non-reusable) portions.
Silverware, flatware, and glassware have been removed. All food and drink must be served with single use disposable product.
Disposable menus must be available for each patron, if requested.
Water stations have been removed.